Scuba Diving in Tobago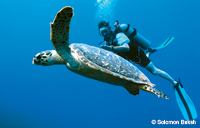 All the scubadiving facilities listed on our Dive Shops page are members of the Association of Tobago Dive Operators and as such, must adhere to certain standards which are there for your safety and comfort.

These standards include:


Instructor on staff full time
Oxygen, first aid kits and radios on board dive boats
Safety sausages provided for all divers
All boat dives must be escorted by a Dive Guide
Surface Markers must be carried by Dive Guides
Many of the dive sites here are drift dives. If you've never tried drift diving before don't let that deter you from experiencing the thrill and excitement that is diving in Tobago. Drift Diving is easy - just adjust your buoyancy and go with the flow, keeping in mind that it is important to listen closely to dive briefings and follow the Divemaster at all times. In addition to Open Water, Advanced and Rescue Diver courses, several Specialty Courses are also available, including Drift Diving, at most of the dive centers. All of our members offer PADI courses and programs and some offer courses from other certifying agencies in addition to PADI.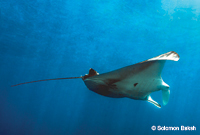 At times effluence from the Orinoco River in South America, brought to our waters on the Guyanna Current, may adversely affect underwater visibility in Tobago. However, it is these nutrients that provide sustenance to the reefs here, giving us a wonderful variety of healthy coral, invertebrate and fish life.
Water temperatures range from "summertime" highs of 82F/28C to lows of 75F/24C in January and February. Most divers find that 3mm neoprene is sufficient thermal protection year round.
At the south end of the island, drift along on Flying Reef past huge plate coral colonies and the "soft wall" of Bermuda Chub, keeping an eye open for Nurse Sharks and Sting Rays resting where reef meets sand. Divers Dream is ... well, a dream. Pelagics often patrol this area along the ledges and overhangs where Gorgonia growth is truly spectacular. The current in this area can be strong at times so this is a site for experienced divers.
A little farther north on the Caribbean side the wreck of the M/V Maverick sits at 100ft/33m waiting to be explored. Originally named The Scarlet Ibis, she was the first passenger ferry offering service between Trinidad and Tobago. Before being sunk as a divesite in April 1997, she was cleaned, inspected and made safe for divers. Snappers and Rainbow Runners lurk in the shadows inside the car deck and schools of bait fish swirl across the upper deck, which is at a depth of 60ft/18m, making it accessible to all diver certification levels. Arnos Vale is a shallow dive (maximum 40ft/13m) and as such, allows maximum bottom time for checking out the nooks and crannies for Lobster, Eels and the elusive Torpedo Rays in the sand.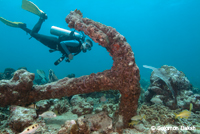 At the northwestern end of the island The Sisters is a series of rock pinnacles rising up from the deep. Hammerheads are often sighted here, but as with all wild creatures, they have their own agenda so "now you see them, now you don't". Mantas are also seen here once in a while but are not the frequent visitors to Tobago that they were a few years ago.
London Bridge is the most well known of the sites around the St. Giles Islands, off the northeastern tip. Even when the conditions are not right to go through the arch, this dive can be spectacular. Tarpon, Turtles and Sharks are frequently sighted and a good eye can find Octopus in the holes in the rock face. Another Charlotteville area favorite with divers is Boulder Valley at the mouth of Man O War Bay. As divers zig-zag among the huge sponge and coral encrusted boulders, sections of this site look like a child giant's marbles strewn across a fantastically colored carpet.
Round the corner from St. Giles, on the Atlantic side of the island is Speyside. Most of the dives here are drift dives along the sloping reefs around the two offshore islands, Little Tobago (aka Bird of Paradise Island) and Goat Island. Kelleston Drain is home to what is reputed to be the largest brain coral in the Caribbean - some say the world, but we don't like to brag TOO much. As you come up on the brain coral, take a peek below it. Nurse Sharks often rest in the recess underneath. Japanese Gardens begins on a shallow slope covered with Vase Sponges, purple Rope Sponge and green algae growth. The thousands of Bicolor Damselfish flitting among the sponges look like butterflies in - yup, you guessed it - a miniature Japanese garden. A hard right turn between two large rocks and the current takes you through Kamikazee Cut, landing you in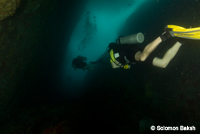 completely different terrain. Here the slope is much steeper and the reef is covered with brightly colored sponges and corals. Seemingly unending soft coral growth sprouts from the granular white sand on the reef top. Check under the ledges for Nurse Sharks catching up on their sleep.
These are only a few of the scubadiving sites around Tobago. Several members' websites have more detailed descriptions of the dives they offer, so for more information check out the Dive Shops page and visit their websites.