General Information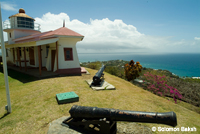 The Republic of Trinidad & Tobago is located at the southern end of the Caribbean islands a few miles from the coast of Venezuela. Big sister Trinidad, is the bustling, industrial and commercial center, while Tobago is the laid back, sleepy little sister. Here in Tobago one is never far from a palm-lined sandy beach or a waterfall tumbling down into a rock lined pool at the edge of the rainforest. In addition to scuba diving, there are many other pursuits that offer ample opportunity to enjoy the natural beauty that Tobago has to offer. There are several tour operators that offer golf, bird-watching, snorkeling, rainforest hikes, fishing, kayaking and sailing trips or tours.
Weather here is temperate most of the year with average daytime air tempertures ranging from 85F/29C to 88F/31C. June to November is our rainy season, during which time we often get short, hard rainstorms, usually at night, but rarely get prolonged downpours. In fact, because we are south of the hurricane belt, Trinidad & Tobago is a haven for "yachties" during the hurricane season. To get an idea of what the weather is like here right now, check the National Weather Service website.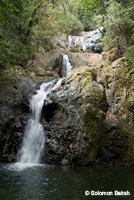 The majority of hotels and guesthouses are located at the southern end of the island, close to the airport. The drive from one end of the island to the other winds along the coastal road through fishing villages and small hamlets. Keep in mind that we drive on the left side of the road here. Neither an international nor local drivers licence is required for visitors staying for a short period of time. There are only 2 gas stations north of Scarborough - at Roxborough and Charlotteville - so its a good idea to gas up before you head off on your island tour. While most folks here are very friendly, happy to stop and chat or help out if they can, it is not advisable to pick up hitchikers.
Local currency is the TT dollar which is currently exchanged at approximately TT$6.00 for US$1.00 and roughly TT$10.00 for £1.00. US currency is readily accepted throughout both islands. Banking hours are 8:00am to 2:00pm Monday thru Thursday; 8:00am to 1:00pm and then 3:00pm to 5:00pm on Fridays. Please note there are a number of banks and ATM's in Scarborough, and south of Scarborough, and now there is a bank and ATM in Roxborough and an ATM in Charlottesville. When making purchases remember that there is a 15% goods and services tax (V.A.T.) added to most prices. To avoid unpleasant surprises, always inquire whether your purchase is vatable.
If you wish to bring along any personal electrical appliances, please note that electricity here is 110 volts/60 cycles. North American appliances will work fine here but voltage and socket configuration is different to that in the UK and Europe.
There are several scheduled and charter airlines that offer direct service from Europe into Tobago, including British Airways, Virgin and Monarch. Airlines that fly the North American route are Caribbean Airlines (including a flight direct from JFK to Tobago every Sunday), and Continental Airlines . There is a shuttle flight service between the two islands via Caribbean Airlines. In addition to the domestic airbridge service, there is also a daily ferry service between the two islands, with two fast ferries (2.5 hours) daily and the boat which takes 5 hours. Please check with the Port Authority about current fares and departure times.

For more information about Trinidad & Tobago visit the Tourism Development Company (TDC) site at www.gotrinidadandtobago.com.