Recompression Facility
Tobago's Hyperbaric or Recompression Facility is housed at the Roxborough Medical Clinic, which is a drive of about 20 minutes from Speyside and about 40 minutes from Scarborough. The Facility is operated jointly by A.T.D.O., the Tobago House of Assembly and T.D.C. (the Tourism Development Company).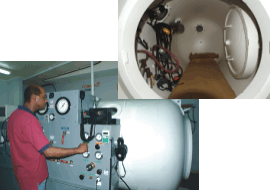 Although its primary function is to treat diving emergencies, the facility is also used by the medical community in the treatment of certain medical conditions that benefit from Hyperbaric therapy.
For more information about the facility, visit their website at www.tobagohyperbaric.com
Of course, the facility is there if you need it, but please pay attention to your bottom time and maximum depth, dive conservatively and do a safety stop at the end of every dive.